A civil right is any privilege that can be enforced, which can be interfered with by someone else, if it results in a certain action or injury. Discrimination happens when a person's civil rights have been denied or interfered with because he or she is part of a specific group or class. This can include any of the following:
Race
Gender
Religion
Age
Previous conditions of servitude
Physical disabilities or limitations
National origin
Sexual orientation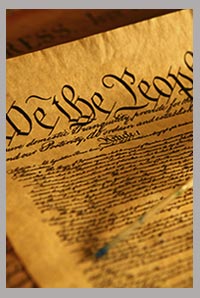 The terms "civil rights" and "civil liberties" are often confused, but there are differences between the two. Civil rights refer to certain legal provisions that come from the concept of equality, and they deal with certain "legal protections" that are granted to individuals. A civil liberty refers to any "personal freedoms" that are guaranteed under the Bill of Rights.
Guarantees Under the Civil Rights Act of 1964
The most important piece of civil rights legislation was in 1964, because Congress used its authority to regulate commerce across all the states. It prohibited the discrimination of people because of their "race, color, religion, or national origin" in any public establishments that are engaged in commercial activity. This includes any places that offer public accommodations (such as hotels, motels, and trailer parks), as well as any restaurants or places of entertainment.
The Civil Rights Act of 1964 implemented a strong legislative policy that prohibited the discrimination in public schools and colleges, which has been helpful in eliminating segregation. The Civil Rights Act of 1964 also prohibited discrimination in any programs that are funded by the federal government, and it passed many laws that deal with discrimination in the workplace. These laws are interpreted by the Supreme Court, which plays an important part in the outcome of every civil rights case. The federal courts have played a major role in mandating and overseeing desegregation in schools, and they have made tremendous efforts to correct discrimination issues at the local or state level.
Types of Civil Rights Cases
There are several types of civil rights cases. Some of these include:
Police Misconduct — Police officers have a great deal of power in how they can perform their duties, but the Constitution limits them on how far they can go to enforce the law. They can sometimes go too far, and they can perform actions that violate the rights of certain citizens.
Illegal Searches — The Fourth Amendment protects citizens from an illegal search and seizure, and any evidence that has been gathered from such an action won't be considered in a court proceeding. This is often referred to as "fruit of the poisonous tree."
Wrongful Death — Police offers are sworn to serve and protect the communities in which they work, but things can get chaotic as they patrol the streets. These kinds of situations can lead to negligent behavior, which can violate the rights of citizens. And sometimes, it can lead to serious injuries or even death.
Illegal Discrimination — It's illegal to discriminate against people because of their race, color, religion, national origin, or gender. It also makes it illegal to retaliate against them because they have filed a related complaint or charge.
Whistleblower Claims — If a company or government agency is engaged in fraudulent action, the information about any person who files a lawsuit (also called a "whistleblower") is placed under seal until the claim has been investigated.
Civil Rights Frequently Asked Questions
What is Civil Rights Law?
Civil Rights Law is meant to protect the civil rights of people, which includes the right to free speech and the right to vote. It also governs litigation that can come up if someone's civil rights have been violated.
Can I sue someone if my civil rights have been violated?
If people stop you from making a speech in their yard, you can't sue them for violating your rights. But you might be able to sue a government employee or some other person of authority for violating your civil rights.
What kind of consequences can government employees face if they violate my civil rights?
If a government employee is "acting under the color of the law," this person is doing his or her job. If a police officer arrests you, this person is considered to be acting under the color of the law.
If I'm turned down from attending a school because of my race, is this a violation of my civil rights?
This can be considered a violation of your civil rights. The hard part is proving that you were refused entrance because of your race or some other set of discriminating factors. In this particular situation, it's best to speak to a qualified attorney to find out if you have a case or not.
What kind of compensation can I receive if my civil rights have been violated?
If you're suing someone for violating your civil rights, you will either receive monetary compensation or injunctive relief. This means that the person (who is usually a police officer, judge, or some other member of a government organization) will stop the person in question from violating your civil rights.
What exactly is immunity when it comes to Civil Rights Law?
Immunity is offered as a way to protect some people from actions being taken against them. Judges who are doing their jobs will usually be given immunity, so they can be protected from lawsuits or some other legal action that may be taken against them.
Do prisoners have the same civil rights as everyone else, and can they sue to enforce them?
The rights of prisoners will be different than the rights of everyone else. Because they have committed a crime, they're not given the same rights as everyone else and may be treated differently.
If you want more information about any of these cases or have been a victim of any civil rights violation, be sure to contact the office of Gale Law Group today!